About Us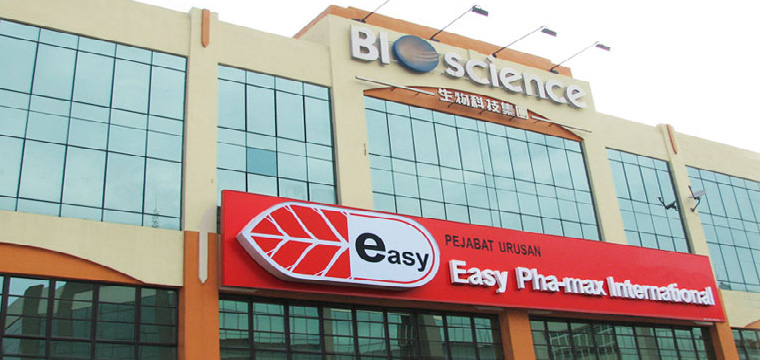 EASY PHA-MAX COMPANY INFO
Bringing Health To The World
In a world that's becoming increasingly hostile to human health, there has never been a greater demand for products that take a natural, holistic approach to wellness an approach designed around the inter-dependence of the body's various systems. Easy Pha-max line of products perfectly meets this growing worldwide need by marrying time-honoured wisdom with cutting-edge biotechnology. By placing in your hands the finest-quality herbs and potent nutritional supplements, Easy Pha-max gives you the tools you need to take charge of your health, to look and feel your best.
Drawing from the success of its Wheatgrass products, Easy Pha-max has expanded its range of wheatgrass-based health supplements to include functional foods, meal replacement drinks for slimming products, trimming products, personal care and skin care products as well as the Bio-Herbs health supplement to meet the accelerating demand for herbal health supplements around the globe.
In Easy Pha-max, we are also committed to bring you the latest blood science knowledge to help individual stay healthy, live longer and achieve ideal weight by knowing how to eat right, cook right and live right according to your blood type. Blood is vital to our health because it keeps all cells alive and functioning in bodily systems, by providing nutrients, oxygen, removing wastes and other metabolic functions. Eating the wrong foods containing chemical receptor (lectins) which is genetically incompatible with your blood type can clump (agglutinate) the cells in affected area (e.g. organs), causing health deterioration over time and a series of health problems and diseases later in life. In fact, the concepts of eat, live and cook right according to your own genetic fingerprint are not new.
Who Are We?
Easy Pha-max is leading in biotechnology of herbal health supplement. It is also a subsidiary of INS Bioscience, which is the marketing and distribution arm of Easy Pha-max brand of health supplement in the local and international markets. The parent company is listed on the MESDAQ market of Bursa Malaysia. It is principally involved in Biotechnology and Research & Development of herbal remedies as well as the cultivation, processing and manufacturing of herbs.
In Easy Pha-Max, only the finest herbs and raw materials are grown and obtained. The company's own production of raw materials ensures that the highest quality products are cultivated from each harvest. Our very own manufacturing undertakes the task of cultivation, manufacturing and processing of wheatgrass and its related products as well as other health food supplement products. Our manufacturing facility complies with certifications for Good Manufacturing Practice (GMP), Good Laboratory Practice (GLP) and Good Agricultural Practice (GAP), giving it the distinction of being the only company with these certifications under functional food.
Our Commitment to Integrity & Excellence
We conduct vigorous tests and numerous procedures to ensure the quality of the raw materials we use and the finished products we sell. Once a product has been produced, it undergoes a battery of tests to assure consistency, quality and potency. Every tests we conduct lead to better product quality, and excellence in product quality is what has put our products where they are today – at the top of the biotechnology industry. You can be assured that with each new product we develop and manufacture, our commitment to excellence will continue.
Our Commitment to R&D
Easy Pha-max strongly believes that R&D is the key to its success in developing and innovating new, innovative and effective herbal health supplement. Our parent company, INS Bioscience are collaborating with seven (7) universities and research centres located in Malaysia, Japan and China, to conduct research and development as well as the test & trial of new products with the guidance from the International Technical Advisory Board (ITAB). Members of ITAB comprise scientists from universities. Easy Pha-max has formed several R&D alliances with corporations and R&D institutions in China, namely China Bioway Biotech Group and China Agriculture University. Current research activities include developing new herbal health food supplements, functional foods, meal replacement drinks for slimming and skin care products. The R&D works involve testing the suitability of raw materials and developing formulations for new products.